Totally Wired film
Saturday 25th October
Time: 1pm - 9pm (includes all events, read timetable below)

The Digital Hub: The Auditorium, Digital Exchange, The Digital Hub, Crane St, Dublin 8
Free Admission: to guarantee entry contact please karen@deafireland.com to hold your place
* Workshop from FAW (Future Audio Workshop, Irl) with special guest Peter Kirn (Create Digital Music, USA)
1.00pm – 1.40pm FAW [Future Audio Workshop]
1.50pm – 2.30pm Peter Kirn [Create Digital Music
* Irish premiere of Totally Wired (documentary film about Schneider's Bureau in Berlin, followed by Q+A from Andreas Schneider and director Niamh Ahern.)
2.50pm – 4.10pm Totally Wired Film [Dir. Niamh Ahern]
4.10pm - 5.10pm Andreas Schneider [Schneider's Bureau]

* BBC Radiophonic Workshop presented by Dave Vorhaus and Mark Jenkins. (White Noise, UK).
5.30pm – 6.30pm Dave Vorhaus & Mark Jenkins [White Noise / BBC Radiophonic Workshop
7.00pm – 8.00pm Diffusion Concert / Soundings

8.00pm – 9.00pm Spatial Music Collective Concert
'Totally Wired' a documentary about Schneiders Bureau in Berlin - Director Niamh Ahern
A documentary film about Andreas Schneider's infamous 'Schneider's Buero', the boutique electronic musical instrument shop in Berlin. 'Totally Wired' explores one man's electric evangelism, and the interface he has built to connect analogue instrument inventors with their end-users. The film features an informed selection of inventors and artists alike, including Dieter Doepfer, Junior Boys, Ken MacBeth, Anthony Rother, Jessica Rylan, Daniel Miller, Wowa Cwejmann, Per Salzwedel, Ricardo Villalobos, Magda, Marc Houle, Cassy, Max Loderbauer and more.
Born in Dublin, Niamh Ahern studied Communications at Dublin City University, where her graduation film, shot on 8mm film, marked the beginning of an ongoing interest in small-formats and self-shooting. As a producer and director in RTÉ, she was an early adopter of DV technology, finding further inspiration and liberation in this format. Her documentary 21 Days from 2006 was produced in this vein. Shown by over twenty EBU broadcasters, it was selected for the New York Children's Film Festival that year.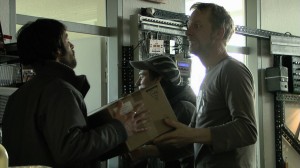 Ahern then moved to Berlin, where she now works as a freelance videojournalist and filmmaker. She has developed her voice as an outsider in Germany to tell stories of people and places from a different point of view. Her debut feature documentary Totally Wired is one such story, telling of synthesiser store owner Andreas Schneider, ensconced inside a crumbling socialist office block in former East Berlin, preaching the way of analogue to a loyal following of infamous electronic musicians. Against the backdrop of the digital revolution, Andreas worked hard to keep analogue alive. Daniel Miller, Ricardo Villalobos, Cassy and Max Loderbauer (amongst others) share their thoughts on Schneider and the future of analogue.
http://www.myspace.com/totallywiredmovie