Rune Grammofon - In the Country + Susanna
Note Productions present a double bill of new music from Norway
In The Country
Susanna
Saturday 25th October - 8pm - €20 + booking fee
Whelan's, Wexford street, Dublin 2
tickets.ie / ticketmaster.ie / wav tickets 1890 200 / note.ie
Note Productions is pleased to present a special double bill of two of the most captivating new acts from Norway, piano trio In The Country and singer Susanna.
.
.
.
.
.
.
.
With a translucent intimacy and an abiding faith in the power of crescendo, In The Country, are a startling piano trio led by Morten Qvenild. The trio's remarkable chamber jazz minatures mark them out as one of the most interesting European groups at work today. Pianist Morten Qvenild is best known as one half of atmospheric duo Susanna and the Magical Orchestra and also a member of Jaga Jazzist, Shining, The National Bank, and Solveig Slettahjell's Slow Motion Orchestra. The band's European classical influences such as Oliver Messiaen and Morton Feldman and electronic roots are clear on their sparse and minimal albums, This Was The Pace Of My Heartbeat and Losing Stones, Collecting Bones (Rune Grammofon). Yet Qvenild also has an attraction to unabashed melody and shadowy drama making this lyrical jazz for the small hours. In The Country are Morten Qvenild (piano) Roger Arntzen (bass) and Pål Hausken (drums).
www.myspace.com/inthecountrytrio
Susanna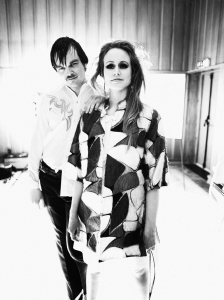 Susanna (of Susanna and The Magical Orchestra) showcases her solo album, Sonata Mix Dwarf Cosmos (Rune Grammafon). Continuing the slow-burn intensity of her Magical Orchestra interpretations of Jolene and Love Will Tear Us Apart on Melody Mountain (Rune Grammofon), her new solo work is achingly lovely, set simply for voice and piano, full of stark, minimalist, slightly cosmic compositions that hang like fairy lights around her gorgeous voice, images of lost lovers and approaching seasons move between feelings of sorrow and expectation. While her recordings are filled with brooding electronics by Deathprod (aka Helge Sten), her new live band is a remarkable largely acoustic trio. Susanna are Susanna (vocals), Helge Sten (guitars and electronics), Paal Hausken (drums).