Poets of Rhythm + Steinski + Daedalus
Friday 24th October
A Choice Cuts presentation
Andrew's Lane Theatre, Andrew's Lane, Dublin 2
7.30pm – 2.30am
€20 + booking fee
www.choicecutsonline.com / tickets.ie / ticketmaster.ie/ Wav tickets 1890 200 078. As part of the Steinski, Daedelus, Poets of Rhythm triple header on the 24th the CHOICE CUTS PHOTOBOOTH will be running in Andrew's Lane and we want you to bring along your favourite hip-hop, electronic, soul, funk Vinyl/CD's/Books/Keyboards etc… What ever you want to be photographed with! There'll be some dope prizes for those taking part so grab your gear and drop in!
Check out the last Choice Cuts Photobooth from earlier this year…
Poets of Rhythm
Using equipment and recording techniques inspired by the rawness of '60s and '70s funk, German band Poets of Rhythm have developed a trademark sound that laid a foundation for a unique output that goes far beyond the average "Soul Brother No.1" style funk outfit. A number of successful releases in the early '90s were followed by a hook-up with Quannum (Tom Shimura) aka Lyrics Born, who, as a keen record collector, found it difficult to believe that the "45 he'd picked up in a New Orleans record shop did not, in fact, date from the original golden era of funk, but rather was a contemporary take on the original sound. Tracking down the band, his enthusiasm led them to reform after a period of inactivity, and their subsequent collaborations demonstrated not just their mastery over their influences, but the confidence to depart from tradition and forge something new.
www.myspace.com/thepoetsofrhythm
Daedelus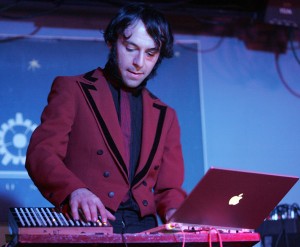 A member of the groups Adventure Time and The Long Lost, Alfred Darlington is an IDM and Electronica producer based out of Los Angeles. Currently signed to Ninja Tune, Darlington has also released material with a number of maverick labels, including: Plug Research, Mush, Laboratory Instinct, Eastern Developments, Phthalo, Merck, Big Dada, Soul Jazz, Distill, Hefty, Bit Of Heaven, Temporary Whatever, Stones Throw, Alpha Pup, Eat Concrete and Warp.
www.myspace.com/daedelusdarling
SELECTED POETS OF RHYTHM DISCOGRAPHY
RELEASES
1992 Funky Train / Hotpie's Popcorn Pt. I (7"), Hotpie & Candy
1993 Practice What You Preach (CD), Soulciety Records
Practice What You Preach (LP), Soulciety Records
1995 Into Space And Time (CD, Mini), Soulciety Records
1999 I Changed My Mind (CD, Maxi), Quannum
I Changed My Mind (12"), Mo Wax
I Changed My Mind (2×7"), Mo Wax
Changed My Mind (12"), Quannum
2001 Discern / Define (CD), Ninja Tune
Discern / Define (2xLP), Quannum
Guiding Resolution (7"), Ninja Tune
2002 Smilin' (While You're Crying) / Guiding Resolution (7"), Quannum
What Goes 'Round (CD), Shadow Records
2003 Summerdays (7"), Gomma
2005 Funky Sex Machine (7"), Tramp Records
2005 Ham Gallery / Battle Of Funk (7"), Freestyle Records (2)
2006 More Mess On My Thing / Budos Theme (7", Promo), Freestyle Records (2)
Practice What You Preach (LP), Daptone Records
PRODUCTION
2005 Same !@#$, Different Day (2xLP) The Bay, Quannum
Same !@#$, Different Day (CD, Album + DVD, NTSC) The Bay, Quannum