Donal Dineen + 3Epkano
A Presentation in Music and Pictures
Sunday 26th Oct, 3pm
National Gallery of Ireland, The Shaw Room, Merrion Square West / Clare street, Dublin 2

€10 - available from www.tickets.ie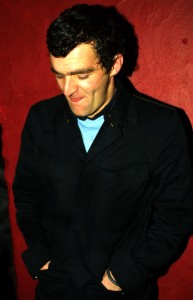 .
.
.
.
.
.
.
.
.
.
In an ongoing collaboration with 3epkano, Donal Dineen presents video work from 2008 and a new photographic series 'Grass of Home'.
3epkano
A seven-piece collective based in Dublin, 3epkano are dedicated to producing original soundtracks for silent and avant-garde cinema. Founded in early 2004 by Cameron Doyle and Matthew Nolan, the band has played numerous headline shows in Ireland and the US to great critical acclaim.
3epkano have also been commissioned to produce new music for institutions such as the National Gallery of Ireland, the Dublin Fringe Festival, the Film Society of Lincoln Centre and the Brooklyn Academy of Music in New York. 2008 also saw them take responsibility for curating the new alternative music strand at this year's Kilkenny Arts Festival (the programme included Mercury Rev, Spiritualized, Lisa Hannigan and Somadrone). The band has also released two albums to date, with a third long player planned for early 2009.
Irish Times - review from Fringe Festival event:
The Electric Picture Palace
Spiegeltent, Iveagh Gardens
Hidden from view by two projector screens displaying mirror versions of the same image, Donal Dineen and 3epkano's latest collaboration was a match made in heaven. Dineen, best-known for his left-field electronica radio show, Small Hours , has developed his interest in film-making over the past decade, while Dublin band 3epkano specialise in providing their own scores for classic silent movies.
It's one thing creating soundtracks for feature films, but accompanying a collection of disjointed scenes presents a very different challenge. Dineen's work, shot mostly on Super 8 film, presents disparate images of modified bric-a-brac, urban and rural landscapes and human figures, all in various stages of motion. 3epkano's compositions, post-rock by any other name, were thoughtful and sympathetic. Using quiet/loud sound dynamics to ideal effect, the seven musicians added further colour and depth, and most importantly, masterfully facilitated the audience's own interpretations.