DEAF Double CD 2008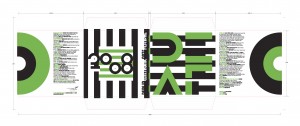 .
.
.
.
Press Release: 
In anticipation of this year's festival on October Bank Holiday weekend 2008, DEAF is proud to present the second in our series of compilation CDs.

A definitive sampler of the very best in experimental electronic music produced by Irish-based artists today, this joint initiative between Culture Ireland and DEAF features contributions from established names and newcomers alike, including Nurse With Wound, David Donohoe, Roger Doyle, Rollers/Sparkers, 16Hz, Legion of Two, Karl Him and Fovea Hex - alongside many others.
With over 500 submissions, we were delighted to find ourselves spoiled for choice when it came to making a final selection. The 35 pieces offered here range from spoken-word/soundtrack works to the latest in home-grown dubstep, techno and acoustic/electronic hybrids, with the evident quality overall testifying to the increasing maturity of Irish-based artists, and suggesting a confidence and breadth of vision that promises many exciting new developments in the near future. 
The limited edition cds will be available free inside this years DEAF printed programme which will be available initially at the DEAF launch party on Fri 3rd Oct at the Sugar Club, then afterwards in selected record shops around the city such as Tower Records on Wicklow St, Road Records on Fade Street, City Discs - the Granary in Temple Bar & Spindizzy in Georges St Arcade. For launch invites email karen@deafireland.com to be added to the mailing list. 

.
.
.
.
.
.
.
.
.
.
.
.
CD 1
Track 1
artist: Fovea Hex
title: While You're Away
credits: Produced and Recorded by Colin Potter and Clodagh Simonds. Glass & Treated Voice: Roger Doyle. Glazed Harmonium & Chimes: Clodagh Simonds. Voices: Clodagh Simonds, Laura Sheeran, Sarah McQuaid. Viola, Violin & String Arrangments: Cora Venus Lunny. Shredded Pianos: Carter Burwell. Marsh Warbler & Dipper Field Recordings: Geoff Sample.
Track 2
artist: Sunken Foal
title: Without Any Thought
credit: Taken from the debut Planet-Mu Records album "Fallen Arches" Written, Performed and Produced by Dunk Murphy in Wexford 2008
Track 3
artist: Legion Of Two
title: Palace Dub (demo/edit)
credit: Electronics - Alan O'Boyle, Drums - David Lacey
Track 4
artist: The Parks Service
track: "cars'n'boys" from (your name here)
credit: vocals: Dr. Deluxxxa
Track 5
artist: Roger Doyle
title: Extract from 'The Ninth Set' - Sector 2
credits: Electronics: Roger Doyle with the transformed voice of Mary Costelloe
Track 6
artist: Alan Lambert
title: Qisuk: Death Of The Eskimo Elder
credits: Taken from the forthcoming album: 'The Iron Mountain' The story of Minik, the New York Eskimo
Track 7
artist: Sunil Sharpe
title: Brick Shiver
Track 8
artist: Strng Mchn
title: We forgot the vowels (live edit)
credits: Electronics by Eamonn Doyle & David Donohoe. Bouzouki: Frank Tate. Guitar: Graham Watson. Processing: Strng Mchn
Track 9
artist : Gareth Flynn
title: March of The Bulgars
credits: Gareth Flynn
Track 10
artist: Violetta Mahon
title: The King, Poto and Deauville
Performers: Blackie Bouffant, Freda Ginger and Style Kincaid
Producer: "The King, Poto and Deauville" by Violetta Mahon has been commissioned by South Dublin County Council through In Context 3 and funded under the Department of Environment, Heritage and Local Government's Per Cent for Art Scheme.
Track 11
artist: David Donohoe
title: Our Hidden Water
credits: 3 layer improvisation by David Donohoe. © Studiomime 2008
Track 12
artist: Pier
title: Mulrano
credit: Produced and engineered by Jon Martin
Track 13
artist: 16Hz
title: 16 Tuns
Track 14
artist: Prince/Obeah Kong (feat. Jah balance)
title: Stamina
credit: Written & produced by Karl Travers, words (Mark Atkinson), C+P Karl Travers 2008
Track 15
artist: David Lacey/Paul Vogel
title: Listen to Britain (for Humphrey Jennings)
credits: Made in Dublin July 2008
Track 16
artist: Lakker
title: Shard (Ruido Remixes)
credits: Written By Dara Smith and Ian Mc Donnell
Track 17
artist: Seán Óg
title: HardShipped
============================================================

.
.
.
.
.
.
.
.
.
.
.
.
CD 2
Track 1
artist: Nurse With Wound
title: Cruisin' for a Bruisin' (Bacteria Bitch Mix)
credit: Written, Recorded and Produced by Andrew Liles and Steven Stapleton
Track 2
artist: Rainfear
title: Quiet to a Frightened Child
credits: Improvised by RF. © Rainfear 2008
Track 3
artist: Boys Of Summer
title: Summertime Greys [Edit]
credits: Produced by Munitions Family 2008
Track 4
artist: Zelloloid
title: Black Sun
credits: Composed & Recorded by Tony Langlois, with Bruce Labey (Dalek) and Harry Moore (Saw Wheel).
Track 5
artist: Rollers/Sparkers
title: Rapunzel
credits: Performed and Recorded by Roller/Sparkers
Track 6
artist: Hard Sleeper
title: Rain then Red Earth
credit: Produced by Peter Maybury
Track 7
artist: miXile
title: Kalgoorlie-Eucla
credits: Production Credits: Michael Shanahan - field recordings, keyboards, synths. Recorded at CONCEPT studios, mastered by Colin Bennun from OOOD, released 2008 by Spaced records, Ireland
Track 8
artist: Enda Bates
title: Flock (excerpt)
Track 9
artist: Chequerboard
title: Penny Black
credits: Written and Produced by John Lambert
Track 10
artist: Glissen
title: The Eagle and the Craneman
credits: Written by Jimmy Behan & Kate McKeon. Produced by Jimmy Behan. Unreleased.
Track 11
artist: Karl Him
title: Lost track
credits: Extract, guitar improv and processing by Karl Him
Track 12
artist: RL/VL
track: Always Laughing.
Track 13
artist: Major Grave
title: Hot Now
credit: produced by Chris Gorman
Track 14
artist: Magnetize
title: Hodge Conjecture
Track 15
artist: Naphta
title: 'A Word About Violence'
credit: (taken from 'Democracy Now' - forthcoming)
Track 16
artist: Softday
title: Softday DEAF 2008 Mix
credits: Composers: Sean Taylor and Mikael Fernström / Remixed performers: 'Der Brullchor', Chaoimhe Taylor, The Irish Chamber Orchestra, Evonne Ferguson, Liz Nolan, The Softday Ensemble
Track 17
artist: The Last Sound
title: Hold And Sever
credits: Written and recorded 5th of February 2006 by The Last Sound. Taken from the album "Frieze".
Track 18
artist: Concerned Parasites ubh Kürka Gweena
title: JBM-Fostúch-HEP
credits: Kayleigh+Éabha-Guthanna leictreonacha.   C.P.U.K.G.-Csamhaind-Meaics/Imeaspí-PróTúils
*******************************
DEAF Music 2008 CD Music Callout - MAY 2008
DEAF returns once again in 2008, with a stellar line-up of local and international talent set to perform across the city over the October Bank Holiday weekend.
While Dublin's more experimental club nights have undoubtedly struggled somewhat in recent years, there's been a notable increase in the quality of the productions emerging from the studios of Irish producers. Thus for 2008, we're putting together a 32-track double CD intended to showcase the best in new electronic music from Irish-based artists.
The CD will be inserted into our print programme and distributed free at the press launch for the festival in September 2008, which is set to take place at the Sugar Club in Dublin. We'll also be promoting it to the Irish and international press as part of our marketing campaign for this year's festival, and all tracks selected will be made available for free download from www.deafireland.com during the run-up to festival week.
We want this compilation to represent the best of what's out there right now, and we hope to feature work contributed by both established names and relative unknowns. Any style or genre of electronic music can be submitted, but tracks cannot be longer than 4 minutes (edits of longer pre-existing pieces are acceptable). Only one track can be submitted per artist name; however, you may submit any number of tracks as long as each is credited to a different pseudonym.
If your music is selected for inclusion, we'll require you to provide a high resolution photograph (representing the artist), along with a brief biography for use in our promotional material.
Entries can be submitted by post [on CD] or via download links.
All CDs should be posted to the address below. The closing date for submissions is Monday July 14th 2008.
DEAF Music 2008
68 Dame Street
Dublin 2
All download links should be emailed to     d1@d1.ie    with DEAF 2008 CD Music in the subject line.
Please note this is a compilation of Irish based artists only. We're looking forward to listening through all the entries!!
Comments