Nurse with Wound + Stephen O'Malley [SUNN 0)))]
DEAF present
Nurse With Wound (USA/UK)
+ support from Stephen O'Malley [SUNN O))) ,USA]
THIS IS NOW A STANDING SHOW!! Due to ticket demands, the previously publicised "seated show" will not be in effect for this event. Please get there early, tickets are selling fast so don't be disappointed & buy online now www.tickets.ie.
Live recording for Lyric FM
Thursday 23rd Oct 08
Andrews Lane Theatre, Andrews Lane, Dublin 2
Doors 7.30pm
Tickets €22 .50 + booking fee
Advanced tickets:: www.tickets.ie City Discs, Spindizzy, Road Records, WAV Tickets 1890 200 078

.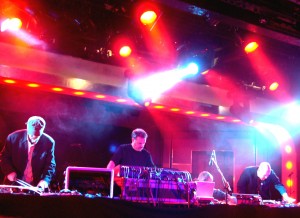 .
.
.
.
..
.
.
Nurse With Wound – Opening DEAF performance
Nurse with Wound (or shortened as NWW) is the main recording name for British musician Steven Stapleton. Nurse with Wound was originally a band, formed in 1978 by Stapleton, John Fothergill and Heman Pathak. The band ranges in many genres such as avant-garde, industrial, noise, dark ambient, and drone.
Their early recordings, all made quickly, were heavily influenced by free improvisation and Krautrock and were generally considered industrial music, despite the objections of the group.
By 1981, only Stapleton was left from the original trio and he now regards 1982's Homotopy to Marie, as being the first proper Nurse with Wound release. There are now over 40 full length NWW titles. Stapleton's fondness for dada, surrealism and absurdist humor are demonstrated in much of NWW's output, which, though it draws directly on nearly every musical genre imaginable (from cabaret music to nursery rhymes to John Cage to The Beach Boys to krautrock to pop music to ambient music) retains a distinctive and recognizable aura. Musique concrete may be the most prominent touchstone, due to Stapleton's frequent, and often humorous, use of creative tape loops and editing. This aesthetic is fully represented in the artwork on the album covers, virtually all of which is created by Stapleton, mostly under the pseudonym "Babs Santini".
Although Stapleton has sole curatorship of NWW, the group has a long and illustrious list of collaborators including Diana Rogerson (Stapleton's wife), James Thirlwell of Foetus, Tony Wakeford, David Jackman of Organum, Andrew McKenzie of The Hafler Trio, Stereolab, Jim O'Rourke, Christoph Heemann, William Bennett of Whitehouse, Robert Haigh, Rose McDowall (Strawberry Switchblade), Annie Anxiety, Jhonn Balance, Matt Waldron of Irr. App (Ext) and most regularly David Tibet of Current 93. At time of writing, NWW is a core duo of Stapleton and Colin Potter, the latter having first worked with NWW on 1992's "Thunder Perfect Mind" when it was recorded at Potter's ICR studio. Potter has appeared on almost every NWW release since.
Current work (2005–present)In 2005, Nurse with Wound returned to live performance after a 21-year absence. Stapleton, Potter, Waldron, Rogerson and Andrew Liles played three concerts at the Narrenturm in Vienna, where they performed improvisations on the album Salt Marie Celeste. These concerts were not, however, billed as NWW appearances. The first official NWW appearances since 1984 were at the Great American Music Hall in San Francisco in June 2006. In December of the same year, the group played at the All Tomorrow's Parties festival organized by Thurston Moore. Stapleton recently reported to a Dutch radio station that he was halfway through his long-promised "hip-hop" album, with around 5-6 female rap artists guesting. A collaborative work with krautrock legend Faust was released on CD in 2007 as "Disconnected" with a vinyl edition carrying additional mixes due in 2008. Their website also lists as forthcoming a new NWW album entitled "Huffin' Rag Blues" which is, primarily, a collaboration with British sound artist Andrew Liles. Stapleton has also announced the completion of a collaborative album with Sunn O))) as well as an expanded reissue of the out-of-print studio album "The Man with the Woman Face".
Steven Peter Stapleton (born 3 February 1957 in Finchley, London, England) is a British musician and the only constant member of experimental improv outfit Nurse With Wound. He is often seen as one of the pioneers of the British industrial music scene, alongside bands such as Throbbing Gristle, Coil or Psychic TV, although in his music he has explored a wide range of styles, including free-form improvisation, folk, and even Latin American dance rhythms.
Nurse with Wound, originally a three-piece ensemble, is Stapleton's main outlet for his musical work, occasionally in collaboration with other musicians such as Foetus or William Bennett (Whitehouse). He has also appeared on records by other artists and worked as a producer. He runs the United Dairies record label, which apart from the NWW output released records by Current 93, The Lemon Kittens, Volcano The Bear, some Krautrock and several experimental artists. Stapleton is also a graphic artist and painter, and has designed album sleeves and book covers.
Under the name "Babs Santini", Stapleton has created the artwork for most of the Nurse With Wound recordings, as well as for other artists, such as Coil, the Legendary Pink Dots and Current 93.
Stapleton lives on the same land with the mother of his four children Diana Rogerson, who has also recorded for United Dairies and made a film for which Stapleton and composer Geoff Cox provided a soundtrack. The family currently lives in County Clare, Ireland, on a piece of land with houses and caravans hand-built and decorated by Stapleton.
.www.myspace.com/babssantini
Stephen O'Malley - SUNN 0)))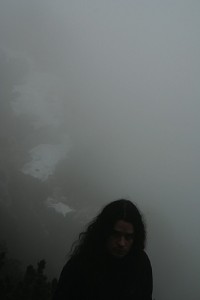 Supporting Nurse With Wound is Stephen O'Malley, guitarist of the doom constellation SUNN O))). Here he performs a rare solo guitar set focusing on raga influence and the philosophy of the physical sound solidified with elements of structure, bringing a reinterpretation of sound's weight, mass, presence and gravity to space – using two Hiwatt Full Stacks.
www.myspace.com/stephenomalley
.
NURSE WITH WOUND - SELECTED DISCOGRAPHY
1979 Chance Meeting on a Dissecting Table of a Sewing Machine and an Umbrella
1980 To the Quiet Men from a Tiny Girl
Merzbild Schwet
1981 Insect and Individual Silenced
The 150 Murderous Passions (with Whitehouse)
1982 Homotopy to Marie
1984 Brained By Falling Masonry
1986 Spiral Insana
1988 Alas the Madonna Does Not Function
Soliloquy For Lilith
The Sylvie And Babs Hi-Fi Companion
1992 Thunder Perfect Mind
1993 Crumb Duck (with Stereolab)
1994 Rock 'n Roll Station
1996 Who Can I Turn To Stereo
1997 Acts Of Senseless Beauty (with Aranos)
Simple Headphone Mind (with Stereolab)
1999 An Awkward Pause
The Swinging Reflective
2000 Alice The Goon
2001 Funeral Music For Perez Prado
2002 Man With The Woman Face
2003 Salt Marie Celeste
She And Me Fall Together In Free Death
The Musty Odour Of Pierced Rectums
2003 Chance Meeting Of A Defective Tape Machine And A Migraine
2004 Angry Eelectric Finger
Shipwreck Radio Volume One
2005 Echo Poeme Sequence No. 2
Shipwreck Radio Volume Two
2006 Soundpooling
Stereo Wastelands
Rat Tapes One
Shipwreck Radio: The Final Broadcasts
2007 Disconnected (with Faust)
2008 The Iron Soul of Nothing (Second Disc of the reissue of Sunn O)))'s album ØØ Void
The Bacteria Magnet
Huffin' Rag Blues
STEPHEN O'MALLEY- SELECTED DISCOGRAPHY
RELEASES
2005 Devolution/Evolution: Stephen O'Malley Interviews Dylan Carlson (File, MP3), Touch
2006 Press Conference / Panel At Roskilde Festival 010705 (File, MP3), Touch
2007 Magistral (CD, Album, Ltd),Southern Lord
2008 6°FSkyquake (CD, Album, Ltd), Editions Mego
Salt (CD, Album, Ltd), iDEAL Recordings
PRODUCTION
2003 Season Of Seance, Science Of Silence (CD), Rise Above Records
Season Of Seance, Science Of Silence (CD, Album), The Music Cartel
2004 Season Of Seance, Science Of Silence (2xLP, Album, Ltd) Parasitic Records
2005 Fungal Hex (2×12"), Aurora Borealis
2006 Crashed Like Wretched Moth (12", MiniAlbum, S/Sided, Ltd), Conspiracy Records(2)
2007 2 (CD) Editions Mego
2 (2xLP, Album, Ltd, Gat),Thrill Jockey
3 (12", S/Sided, Ltd, Etch),OR
KTL (2xLP, Album, Ltd, Gat), Aurora Borealis
MIX
2004 White2 (CD), Southern Lord
RELEASES WITH SUNN O)))
2000 ØØ Void (CD), Rise Above Records
ØØ Void (CD, Album, Dig), Hydra Head Records, Double H Noise Industries
ØØ Void (CD, Promo, Album, Car), Rise Above Records
The GrimmRobe Demos (CD), Double H Noise Industries, Hydra Head Records
2002 3:Flight Of The Behemoth (2xLP), Bisect Bleep Industries
3:Flight Of The Behemoth (CD), Southern Lord
ØØ Void (2xLP, Gat), Dirter Promotions
LXNDXN Subcamden Underworld Hallo'Ween 2003 (CD, Ltd), Bastet
Veils It White (12", EP, S/Sided, Ltd, Pic), Thin The Herd
White1 (CD), Southern Lord
White1 (LP + LP, S/Sided, Etch +, Album), Southern Lord
2004 Cro-Monolithic Remixes For An Iron Age (12", EP, Ltd), Southern Lord
Live White (CDr + CDr, Mini + , Album, Ltd), aRCHIVE
White2 (2xLP), Southern Lord
White2 (CD), Southern Lord
2005 Black One (CD), Southern Lord
Black One (2xLP), Southern Lord
Black One (2xCD, Ltd, Album), Southern Lord
Candlewolff Ov Thee Golden Chalice (12"), Anti-Mosh
The GrimmRobe Demos (CD), Southern Lord
The GrimmRobe Demos (2xLP), Southern Lord
2006 Altar (2xCD, Ltd, Num), Southern Lord
Altar (CD), Southern Lord
Altar (2xCD, Ltd), Inoxia Records, Inoxia Records
Altar (CD), Inoxia Records
Angel Coma (LP, Ltd, Gol), Southern Lord
La Mort Noir Dans Esch / Alzette (CD, Ltd), Southern Lord
White (4xLP, Pic, Whi + Box, Ltd), Southern Lord
2007 3:Flight Of The Behemoth (2xCD, Album), Daymare Recordings
Altar (3xLP), Southern Lord
Altar (3xLP, Album, Ltd, 200), Daymare Recordings
Altar (3xLP, Pic), Southern Lord
Altar (3xLP, Album, Ltd, Ora), Southern Lord
Black One (2xCD), Daymare Recordings
Oracle (2xCD, Album, Ltd), Southern Lord
Oracle (LP, Ltd, Bla), Southern Lord
Oracle (LP + CD, MP + , Ltd), Southern Lord
Oracle (LP, Ltd, Cle), Southern Lord
The GrimmRobe Demos (2xCD, Album), Daymare Recordings
White1 (2xCD, Album), Daymare Recordings
White2 (2xCD, Album + CD, Mini), Daymare Recordings
2008 ØØ Void (CD, Album, RE + CD, Album), Daymare Recordings
REMIXES
2005 Legacy Of Dissolution (CD, Album), No Quarter
Legacy Of Dissolution (2xLP), Southern Lord
Comments