Annette Krebs + David Lacey + Paul Vogel
I-and-E presents a concert of improvised music

Annette Krebs (Ger)
David Lacey (IRL)
Paul Vogel (IRL)
Friday 24 October, 7pm
€10
The Ireland Institute, 27 Pearse St, Dublin 2 (next to the fire station)
I-and-E
Formed in 2003, I-and-E is a musician-run organisation established to present concerts of improvised music. Alongside an annual festival in Dublin, i-and-e has co-presented performances in Cork, Belfast and Paris, with guests including Keith Rowe, Mark Wastell, Andrea Neumann, Fergus Kelly, Rhodri Davies, Joe Colley, Judith Ring, Lee Patterson, Axel Dorner, Ferran Fages and Sean Meehan. Further one-off i-and-e events have included John Tilbury's performance of Morton Feldman's composition For Bunita Marcus in 2007, and Fred van Hove's solo church organ performance in 2008.
www.i-and-e.org
Annette Krebs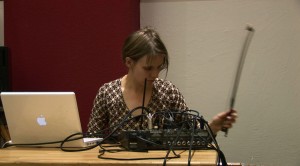 (prepared guitar, de/composition, objects, electronics)
Berlin-based, Annette Krebs combines composed musical sounds with words and visual materials. The possible decorative function of sound beside voice or picture is averted through Krebs' abstract approach, with the kaleidoscopic effect of her sound-language offering multilayered interpretations. She has collaborated with, amongst others, Taku Sugimoto, Toshimaru Nakamura, Burkhard Beins, Robin Hayward and Andrea Neumann.
www.myspace.com/sberk1
David Lacey
Active in improvised music since the mid-90s, David Lacey employs a traditional acoustic drum kit, alongside field recordings and objects manipulated via crude electronics. To date, the list of his collaborators reads impressively: Mark Wastell, Keith Rowe, Rhodri Davies, Angharad Davies, Lee Patterson, Annette Krebs and Derek Bailey, as well as regular work with Irish musicians Paul Vogel, Fergus Kelly, Alex McMahon, Sean Óg and Rob Casey. Recent releases for labels such as Cathnor, Confront and Room Temperature and performances with Decal, Cian Nugent and The Dinah Brand have seen Lacey go on to form his own Homefront label – and to work with the Swedish-Irish quartet - Chipshop Music.


Paul Vogel
A member of the Bristol Musicians Co-Op in the late seventies, Paul Vogel is currently a co-curator of i-and-e alongside David Lacey. Incorporating electronics with live piano and clarinet performance, Vogel has composed music for radio and for contemporary dance groups and has also worked and recorded with many international improvisers, including Phil Durrant, Lee Patterson, Angharad Davies, Mark Wastell and Keith Rowe. He has released recordings on Homefront, Confront and Cathnor.
ANNETTE KREBS SELECTED DISCOGRAPHY
2000 A Duo In Berlin, Slub Music
Rotophormen, Charhizma
Eine Gitarre Ist Eine Gitarre Ist Keine Gitarre Ist
Eine Gitarre…, Rossbin
2002 Guitar, A Bruit Secret
Guitar Solo, Fringes Recordings
2003 Bosetti ° Krebs, GROB