Screening: Jonas Mekas '365′
DEAF presents Jonas Mekas - a 90 minute selection from '365'
25th October - 1pm
Denzille Cinema, 13 Denzille Lane, Dublin

Tickets 8euro from www.tickets.ie (limited to 30 per screening)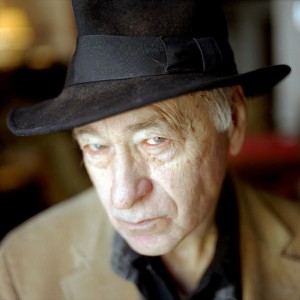 .
.
Born in 1922 in Semeniskiai in Lithuania, Jonas Mekas and his brother Adolfas were imprisoned in a forced labour camp in Nazi Germany for eight months in 1944. After surviving this ordeal, Jonas took time to study philosophy at the University of Mainz but by 1949, he and his brother had emigrated to New York, where Jonas still lives today. Two weeks after his arrival, Jonas borrowed the money to buy his first Bolex 16-mm camera and, inspired by the avantgarde films he experienced at venues such as Amos Vogel's pioneering cinema 16, he began making and screening his own films in 1953. Since then he has been acclaimed as one of the leading figures of American avant-garde filmmaking (or the "New American Cinema," as he dubbed it in the late '50s). He has played various roles: editor and chief of Film Culture in 1954; writer of the Movie Journal column for the Village Voice from 1958; and co-founder of both the Filmmakers' Co-operative (FMC) and the Filmmakers' Cinematheque in the early sixties (the latter eventually grew into Anthology Film
Archives, one of the world's largest and most important repositories of avant-garde films).
Mekas' own output ranged from narrative films (Guns of the Trees, 1961) and documentaries (The Brig, 1963) to "diaries" such as Walden (1969), Lost, Lost, Lost (1975), Reminiscences of a Voyage to Lithuania (1972), Zefiro Torna (1992) and As I was Moving Ahead, Occasionally I Saw Brief Glimpses of Beauty (2001). The Directors Guild of America awarded Anthology Film Archives a DGA Honors recognising the centre's dedication to preserving the art of cinema. In its annual selection of 25 films, Reminiscences of a Journey to Lithuania was esteemed by the United States National Film Preservation Board to be selected for preservation at the Library of Congress' National Film Registry. Mekas' films were also screened at Art Basel Miami and Mekas himself was honoured at the Los Angeles Film Critics Association's award ceremony for his significant contribution to American film culture. Most recently, the Jonas Mekas Visual Arts Centre was established in Vilnius, Lithuania and exhibitions will focus on art and film collections by Mekas and his friend and artistic collaborator George Maciunas, founder of the Fluxus art movement. Opening in late 2007, the Centre houses an extensive avant-garde film archive and library.
365 (2007)
Jonas Mekas made and uploaded a film every day during 2007. The 365 films produced can be viewed (compressed) online – but Jonas also took time to compile a special 90 minute edit and this year, DEAF will screen this special selection at full resolution.
Jonas Mekas - Full Program Listing
1. January 9, 2007
6:32 min.
With Jean-Jacques Lebel toasting Apollinaire and Futurists at 202 Blvd
St Germain, Paris, the house Apollinaire lived in.
2. June 16, 2007
2:52 min.
Just a little poem — for a change.
3. January 22, 2007
4:50 min.
I am in low spirits, I am trying to find some uplifting music on
radio, but I fail.
4. February 1, 2007
8:10 min.
Ken Jacobs, master film minstrel, reveals some of his nervous technologies.
5. November 19, 2007
5 min.
A funny story — something different.
6. March 1, 2007
4:20 min.
I attend Madonna's concert — ( Jan.3. 2006 ).
7.March 7, 2007
5:20 min.
At Cremcafe, downtown New York, Benn and myself, we talk about what?
Women, of course.
8. March 23, 2007
5:05 min.
A woman reveals to me her love affair with Andy Warhol. She was
seventeen, he was twenty.
9. March 28, 2007
4:12 min.
A requiem for a broken tree, Sutton Street near Driggs, B'klyn. The
tree was waiting for the Spring.
10. April 3, 2007
5:35 min.
A conversation with Harmony Korine.
11. July 10, 2007
c.1955 I filmed Billy Graham at Madison Square Garden.
12.April 10, 2007
4:45 min.
Erica and Auguste declare their love to a tree on Houston Street, New
York City.
13. August 23, 2007
4:56 min.
Harry makes me his mother's soup to help me to get rid of my cold.
14. June 19, 2007
5:38 min.
Peter Kubelka makes a declaration re. essence of cinema.
15. January 12. 2007
6:18 min.
I do not feel like doing anything today, I want to listen to music.
16. December 14, 2007
6:21 min.
with Sebastian we spend a strange night in the house of Nostradamus.
(St.Remy, France)
17. May 10, 2007
4:32 min.
I react to a Liquid Architecture song, Revolution is Over.
18. February 21, 2007
4:31 min.
I get angry— what's wrong with Britney shaving her head?
19. June 21, 2007
3:26 min.
This one is for Nick Drake. Music: HORN, Nick Drake.
20. January 31, 2007
3:30 min.