Electronic Sensoria Band feat. Itaru Oki
Saturday 25 October
The Joy Gallery
2 Rutland Place, Dublin 1
7.30pm
€10
BYOB
Electronic Sensoria Band
Featuring Itaru Oki -Japan
The Black Egg IRL
Meganekko IRL
Safe IRL
Incidental sounds by Neil Donovan (Lazybird)
Visuals by Videopie and friends

Oki Itaru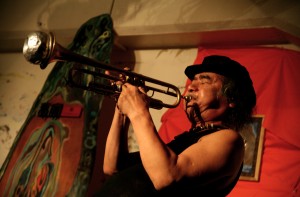 .
.
..
.
Born in Kobe, Japan in 1941, Oki Itaru was raised in a rich musical environment; his father was a player of the Shakuhachi (Japanese vertical flute), while his mother was a master of the Koto (Japanese horizontal harp). Oki started to play the trumpet in his high school brass band. Moving through the Dixieland and bop styles, he took on free jazz in the late 1960s and joined with Togashi Masahiko and Sato Masahiko to form ESSG (their first tour of Europe took place in 1969). Following his subsequent formation of the Oki Itaru Trio (which later grew into a quartet) Oki moved to Paris in 1974 and since then he has continually performed at concerts and festivals in France and throughout Europe.
Electronic Sensoria Band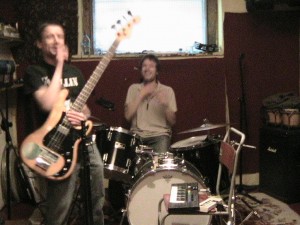 ..
.
.
.
.

.
.
Electronic Sensoria Band arose in 2002 from improvising sessions between Fergus Cullen and members of The Wormholes and Memory Cells at Dublin's legendary Lazybird club. Their backing of the legendary ex-Can vocalist Damo Suzuki at his debut Dublin show was recorded and became the first release on their Last of our Kind label. Since then they have scaled down to a three piece line-up consisting of Fergus on guitar and clarinet, with brothers David and Anthony Carroll on drums and bass.
www.myspace.com/electronicsensoriaband
The Black Egg
The mysterious Black Egg Project claim to have formed in the late 1970s as part of the hitherto little-known International 'Kassette Kulture' / Mail Art Network, originating in a series of "canned recitals" (featuring cut and spliced cassettes posted back and forth for collaborative mutation).
Adherents of what they term 'obscurantist tactics', the mystery deepens with the list of participants to date: Eve Ross (This Must Be The Real Thing, 1980), Tim Ore, Werner Herriman (while performing live in Toronto with the White Colours), and filmmaker Michael R. Wilson. On this occasion, Dublin's own Lamont Cantor will be remixing "unused leftovers" live from an old batch of Black Egg tapes which, it seems, he happened upon last year – in a shopping bag in a San Francisco art gallery storage space.
Meganekko
Taking much of her inspiration from the feminist stance of the early 90's Riot Grrrl scene, Emily Aoibheann (from Dublin band Party Weirdo) presents the Meganekko project. Pushing the punk and DIY ethic to the fore through their skewed, plug-in-and-play approach, the band describe themselves as "three nympho librarians on mostly keyboards".