Lakker + Bang Hazzard + Alo Alik
Sunday 26 October
JJ Smyth's
Aungier street, Dublin 2
8.30pm €12
Improvised Music Company presents:
Bottlenote Collective
Featuring:
Lakker live
Bang hazard live
Alo Allik dj set
www.bottlenotemusic.com
www.improvisedmusic.ie
Lakker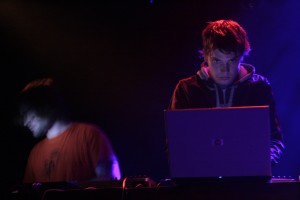 .
.
.
.
.
.
.
Formed in 2002, Lakker is Dara Smith and Ian McDonald. Described in the Journal of Music in Ireland (JMI) as "one of the best electronic acts in Ireland," their output has ranged from electro-acoustic soundscape pieces to mashed-up death-metal-sampling breakcore: a diversity reflected in their releases to date on labels such as Risc Records, Go Away Recordings and the online EP Cosas with The Alphabet Set. Live, they have played alongside a plethora of acts like Andrew Weatherall, Tim Exile, The Bug, Aaron Spectre, Pamelia Kirstin, Chevron and Cylob, and have made a number of appearances at DEAF, as well as the Mor, Leechrum, Mantua and Cork French Film festivals. The Lakker debut album was released on Lazybird Records and received 85% from Mongrel magazine and 4.5 out of 5 from Foggy Notions who noted that, "for fans of intelligent crafted noise, it's a must have".
www.myspace.com/lakker
Bang Hazard
This new collaboration (featuring Alo Allik, Shane Latimer, Justin Carroll, Greg Felton) explores improvisation within pre-meditated boundaries, lining up two keyboards along with live processing to provide a platform for examining the contrasts between analog and digital electronics.
Alo Allik Digital Effects
A nomadic sound artist with a diverse selection of geographical and cultural environments (including the underground DJ scene in the Pacific Northwest, digital arts communities in New York, and electroacoustic and multimedia gatherings in The Netherlands), Alo's DJing, algorithmic compositions and live performances (solo as well as a member of multimedia collective ibitsu) have recently taken him to festivals and events as diverse as Transmediale (Berlin), Sonorities (Belfast), NWEAMO (USA & Mexico), Ultrahang (Hungary), Share
(New York), State-X, Todays Arts (the Netherlands) among many others.
Shane Latimer
Dublin-based guitarist and composer Shane Latimer is a core member of the sextet Awkward Silence, The Dumbshow and the Dirty Jazz Ensemble. Also a member of the house band for the Cork Jazz Festival in '05, '06 and '07 Latimer performed his own compositions at the Granary Theatre in Cork and the National Concert Hall in Dublin. In 2008 he organised a collaborative project with Danish improv/ electronic group Moskus and in 2006, he was awarded a B.A. in Jazz Performance from Newpark Music Centre (where he now teaches jazz improvisation, contemporary repertoire and guitar). He has also attended workshops at the School for Improvisational Music in New York and the Banff Centre for the Arts in Canada.
Justin Carroll Rhodes
The multi-talented Justin Carroll is, as usual, a busy man. Currently leading an exciting new quartet (Togetherness), he is a member of award-winning organ trio Organics, and also plays with Zoid Ensemble, Kai Big Band, Cortisol and Rebecca Collins. Justin has toured and performed with many a host of talented names including Greg Osby, Bobby Watson, Ronnie Cuber and Jim Mullen. In 2007 Justin was awarded Best Young Irish Jazz Musician at the Guinness Cork Jazz Festival.
Greg Felton Keyboards
Described by the Irish Times as "an exceptional young pianist", Greg Felton is regarded as one of the best young pianist/composers to emerge in Ireland in recent years. His unique piano style ranges from jazz and folk traditions to free improvisation and South Indian classical music. He has studied intensively with Ronan Guilfoyle in Dublin, Dave Liebman in the USA, Dave Douglas and Vijay Iyer in Banff, Canada and Dr. K.S. Subramaniam and Trichur Narendren in Chennai, India. Greg was commissioned to write and perform a largescale piece with the group White Rocket for the RTÉ Living Music Festival in 2007. Other performance highlights include support slots to Charles Lloyd with Jason Moran, Dave Douglas and Steve Coleman as well as representing Ireland in the EuroJazz Festival in Mexico City with White Rocket in March 2007. For video, mp3s and news at www.bottlenotemusic.com
www.improvisedmusic.ie