White Yellow White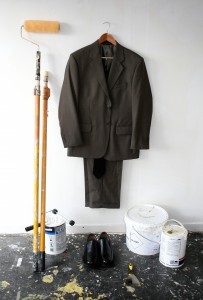 .
.
.
.
.
.
.
.
.
.
.Projector Collective
Artists John Carter, Anthony Kelly and Jay Roche will paint a room. First they will coat it in white, then yellow, then white again, over a period of five days. While painting they
will wear new suits with shirt, tie and new shoes. They will strive to avoid getting any paint on their clothes. In fact, the object of the performance is to survive the application of the three coats of paint without a blemish to their attire. The project has its root in a folkloric story from the decorating world of a bet taken between two painters as to who was the cleanest and tidiest between them. Wearing their finest Sunday best they undertook to paint the walls and ceiling of a room without spoiling their clothes. Only one was successful. Projector Collective felt a resonance with the story and felt compelled to take on the challenge for themselves.
To heighten the experience a live video recording of the task will be fed to monitors, giving viewers closer and more detailed views of the artists at work, while an audio dimension will be explored in a similar way with rollers and brushes miked for sound. This documentation, along with photographs and the actual suits worn by the artists, will form the basis for a more permanent work which will be compiled and created both during and after each event and displayed for the public to view. The project will be assisted by Alan Lambert and David Stalling.
Projector Collective was formed in late 2006. The main aim of the Collective is to encourage a collaborative approach to making visual art, and to that end they wish to create an arena where ideas can evolve and can be realised inside and outside the traditional environment of a gallery space.
Versus?
Where art meets fashion (and gives it a chinese burn). Launched in July 2008, Versus? is an innovative gallery/shop conceived by turtlehead, the Dublin-based t-shirt label.
Versus? pits different cutting-edge t-shirt brands from around the world (including Threadless, and Canadian designer-darlings VEER, plus indie brands like Hans and Fras and Lazy Oaf) against turtlehead's own designs. Versus? stocks art books, quirky Japanese vinyl toys, jewellery, satchels and other weird and wonderful art pieces from around the globe, while it also doubles as a gallery space, exhibiting two different artists 'head to head' every three weeks – from illustrators and photographers, to DJs and jewellers. Each artist leaves one piece as part of the permanent display.