James Nares' + Fugitive Projects
JAMES NARES'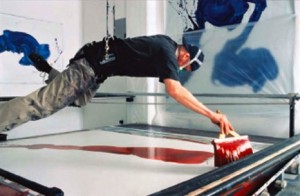 .
.
.
.
.
.
FUGITIVE PROJECTS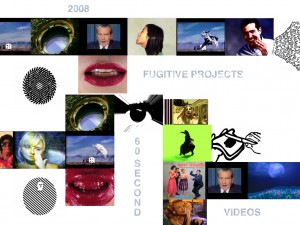 .
.
.
.
.
.
.
Sebastian Guinness Gallery presents
DEAF New Experimental Film Programme featuring
Fugitive Projects : 100 x 60 second American Films
+
James Nares:
Paper Factory, 2007. 7:45min
Drip, 2007. 2:00min,
Drop, 2007. 8:20min
(all films looped from 12-6pm each day)
Sebastian Guinness Gallery, 18 Eustace Street, Temple Bar, Dublin 2
12-6pm
free
.
James Nares' work as a painter is so strong and affecting that it would be possible and perhaps even appropriate to discuss it without reference to the current climate in the arts. Nares is a particularly independent artist, and his work has little relation to that of his contemporaries, and his milieu does not appear to be a source of inspiration, a stylistic influence or even a footnote to his work. He comes out of left field, making work that is totally independent.\
Nares is not a just a painter. In his 1977 - 78 Solos performance 'Desirium Probe', Nares became a television transmitter. The piece was performed twice, in downtown New York: once at Joan Jonas's Mercer Street loft, in 1977, and once at the Kitchen, on Wooster Street, in early 1978. Nares stood in a white room facing a television screen, with the audience seated behind it. In his hand was a remote control. For about 4 hours, he switched from station to station, channeling the words and sounds he heard through the headphones. A physical and mental test of concentration and endurance, a sci-fi twist on 'sampling' that predated the rise of the artist-DJ/VJ. 'Desirium Probe' was for many of the roughly two hundred people who saw it, one of the most memorable performances of the decade.
As a film-maker Nares is going public with his 'motion pictures' at a moment when installations are hot and it seems as if every second gallery has a video running in a back room. His approach, however, to the relationships among various mediums of expression could not be further from the contemporary tendency toward multi-media mash-ups and circuslike spectacle. Indeed, 'purity' is the term most typically invoked in discussion of his painting. What Nares has done for more than thirty years is repeatedly run a few potent, related ideas - about movement and stillness, ritual and improvisation, interior and exterior - through multiple media to define the particularities of each.
Fugitive Projects
This collection of one-minute videos is a cooperative initiative by Fugitive Projects. Established in 1999, Fugitive Projects currently is a non-profit curatorial organisation, with the stated intention "to foster innovation in the shadows because often it is far outside the usual venues where opportunities for real invention occurs".
Operating out of Nashville, Tennessee (far from the major cultural centres for the visual arts), the Fugitives have recently begun a new course as an independent arts advocacy group and a roaming curatorial collective that produces traveling exhibitions. The 60 Second Project offers a diverse collection of videos with themes and production techniques demonstrating a wide range of approaches to the moving image, including self-authored, generative software. Participants hail from diverse artistic backgrounds, including documentary and feature filmmaking, painting, computer programming, performance art, sculpture, and installation.
This is a unique opportunity to see a large and diverse collection of video and film works by artists whose collective résumé include collaborations with Tom Waits and the Vienna Philharmonic, participation in such major exhibitions as the Whitney Biennial, Berlin Biennial, and the Sundance Film Festival, and whose works can be found in the collections of MOMA in New York, the Whitney Museum of American Art and in many other institutions in the US and Europe.
Solus programme formed in 1988 in Dublin, is an independent film collective and platform for film-makers working in Super- 8mm, 16mm and DV. Solus screenings feature work from Moira Tierney, David Stalling, Anthony Kelly, Zoe Greenberg, Dennis Kenny, Alan Lambert, Donal O'Ceilleachair, Stom Sogo, and Masha Godovannaya.
In 2005 a new Solus programme was compiled for The Contemporary Arts Centre in St.Petersburg, Russia. This programme united some of the original members of Solus with a group of film-makers from Feenish Productions in Dublin and was then adapted (with the addition of some Japanese and Canadian films) for another Anthology Film Archives programme in 2006. In 2007 Solus programmed the Irish section of Animae Caribe: New Media and Animation Festival in Trinidad, and then
brought the animation programme to IMAFY (International Media Art Forum for Youth) in Cairo, and presented it at Luxor University, Egypt. The first Solus DVD compilation was launched in thisisnotashop in Dublin in early 2008, and will be launched in Anthology Film Archives in New York in November.
Sebastian Guinness Gallery
Open in Temple Bar since January 2008, Sebastian Guinness Gallery is dedicated to bringing international art and artists to Ireland.