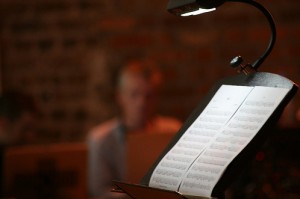 Spatial Music Collective present 8.5    
Kevin Barry Room, National Concert Hall, Earlsfort Terrace, Dublin 2
8.30pm    €8/6      Tickets available at the door.
The Spatial Music Collective presents 8.5 – a concert of spatial electronic music
The concert will feature original compositions by the members of the collective, along with an electronic realisation of 'Spem in Alium', a forty-part motet composed in 1570 by Thomas Tallis for eight choirs of five voices. 
This highly regarded work of Renaissance Polyphonic choral music represents one of the earliest forms of spatial music, as the eight choirs are positioned around (and sometimes above) the audience. 
In this instrumental version, each choir is rendered electronically, and presented from discrete locations around the audience.
Posted: September 3rd, 2009 under Uncategorized.
Comments: none