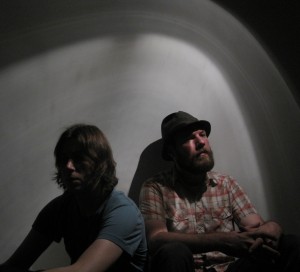 The Douglas Hyde Gallery present  
'A Gallimaufry' featuring Mountains (USA), Mark Garry (Irl), Karl Burke (Irl) Robin Watkins + Ciaran Murphy (Irl)
2pm – 10pm             €15
 Douglas Hyde Gallery, Trinity College Dublin.  www.douglashydegallery.com  
Now drawing praise that compares them to the likes of Brian Eno and Fennesz, Brendon Anderegg and Koen Holtkamp met at the Art Institute of Chicago and devoted their time to a process of musical experimenting that led to the foundation of the Apestaartje label in 1999, and ultimately to the creation of Mountains.
Released in 2009, their third album 'Choral' was largely performed in real time. The duo seamlessly blend pastoral electronic sounds with field recordings and a plethora of conventional instruments such as organs, 12 string guitars and accordions.
 'Gallimaufry' will take place from 2pm-10pm, with performances from Mark Garry, Robin Watkins, Karl Burke and Ciaran Murphy throughout the day (workshops and jam sessions will provide further stimulation and entertainment between the acts).
Karl Burke:   3pm
Robin Watkins:   4pm
Mark Garry:   5pm
Ciaran Murphy:   6pm
Mountains:   8pm
 For further information on A Gallimaufry, call the gallery on 01 896 1116 or check the website:
www.douglashydegallery.com
Posted: September 2nd, 2009 under Uncategorized.
Comments: none