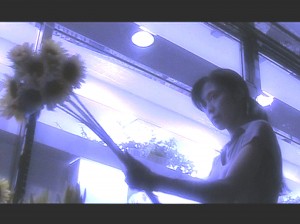 Ouroboros: Ocean Dreams'
Alan Lambert screening / a feature length collection of shorts
Kevin Kavanagh, Chancery Lane, Dublin 8
6pm – 8pm            FREE
Ouroboros: Ocean Dreams' is a set of short improvised ghost stories, made on mini-DV over the past two years, and produced by a variety of artists in a variety of locations around the world. When viewed end to end, these short films combine to make a feature film. The fragmented protagonist spans many characters, whose story spans many locations.
The first short introduces the composer, whose story ultimately carries and connects the other stories. The soundtrack includes contributions from the Ear Collective, Jezebel Maraschalchi, Five Green Circle, Dave Donohoe, Stephen Rennicks/Secret Society, Fergus Kelly, Dennis McNulty, Anthony Kelly and David Stalling, Chequerboard, Coretta Singer, Eamonn Doyle, Donnacha Costello and Metal Dragon.
Here is a link to some observations that Maximillian LeCain made about the film in his 'Experimental Conversations' series.
Director Alan Lambert is an Irish visual artist and musician working internationally as 'Metal Dragon' and co-managing 'Solus: Film Collective' and 'The Experimental Film Club' in Ireland.
Posted: September 1st, 2009 under Uncategorized.
Comments: none