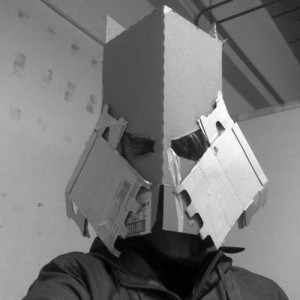 Supafast present  MORE INFO HERE
Enda McNally (Video/performance, Irl), HughCooney (Video/Performance, Irl), Tom Lynn (Live, Irl), Paddy Lynn (Live, Irl), Doug Cooney (live, Irl), Blood BottleR (live, Irl), Blue Food (live, Irl)
Kennedy's, The Underground, Westland Row, Dublin 2           
9pm – 3am             €5 before midnight ' €8 after           
Supamanifesto.
'Supafast' will be an open forum for general work that producers feel is relevant or of interest to their peers. All work will be presented 'club' style, thereby lending a dynamism not really experienced in a gallery/shop situation. For this show 'Supafast' will be showing video work made for a submissions based project that asks for 15-second phone videos. People attending the night will also be fitted with cardboard masks and helmets. Various other audience participation elements will be running on the night in effort to create a body of work from those who attend. We will also be asking producers to showcase their Music/Video/performance/installation in 30-minute slots throughout the night. Styles of production will range from comedy and cabaret type scenarios to dj'ing and music production. The night will build through from a light entertainment type environment to a fast paced showcase of locally produced electronic music. 
www.myspace.com/supafastdublin 
www.myspace.com/hospitaldublin
Tom Lynn began making music on his computer shortly after buying it second-hand with the money he had left over at the end of a trip to Thailand.
He's played in his own night Hospital, as well as doing guest slots in nights around Dublin, at Life Festival and Sibin Festival. He has recently begun a collaborative projected under the 'Supafast' moniker with Hugh Cooney
Hugh Cooney: Hugh Cooney is a Dublin based artist who can most easily be catagorised by his Youtube  video entitled 'Accessorise'. Hugh has most recently been running a cabaret style night in the Pygmalion(south William street) every Monday entitled 'Hugh Cooney Don't Like Monday'. In this environment Hugh has been doing live performance along side video.
Doug Cooney : Doug Cooney is a Dj/Producer who has been operating in Dublin for the past five years. A technically amazing and intuitive DJ he recently made his live debut bringing his full sounding and exquisitely produced music to Dublin clubs.
Paddy Lynn has been making his unique brand of melodic electronic music for over a year now. He has played at various Hospital nights, as well as the Pygmalion.
He is currently enrolled in the Dundalk Institute of Technology, Sound Technology  masters course.
Supfast: Supfast is a collaboration between Tom Lynn and Hugh Cooney. They create no compromise dance music in conjunction with a synchronized live visual show. A track of note on their Myspace is 'Massivedevilpig' 
www.myspace.com/supafastdublin  
Enda Mac Nally is an award-winning Irish artist and musician who is recently graduated from NCAD. Having worked for many years using largely traditional media, his practice as a visual artist hasrecently begun to involve video, performance and sound work, an example of which he is presenting as part of this year's DEAFfestival.Taking it's staring co-ordinates from a cross-pollination ofunderground musical genres, cult literature and weird internet phenomena- the resulting work, whether it be in a traditional form oras part of an audio/visual presentation, often makes use of startlingimagery and provocative language, punctuated by a dark sense ofhumour.Mac Nally has previously been involved in South Dublin County Council's 'In Context' project, as artist and film-maker in residence and in the Darklight Film Festival, as an invited director. He is currently working on material for a solo exhibition as well as preparing a number of screen and audio projects.
endamacnally.blogspot.com 
Posted: September 1st, 2009 under Uncategorized.
Comments: none