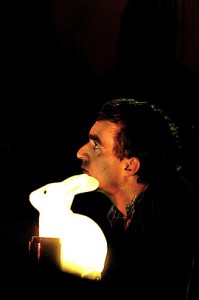 Donal Dineen Mix Media installation         
Filmbase, Curved Street, Temple Bar, Dublin 2            
FREE            11am -8pm  
A musical pioneer since his early days as presenter of 'No Disco' on RTE in the '90s, through to his current late night radio show 'The Small Hours' on Today FM, Donal Dineen has employed a discerning ear to seek out, listen to and encourage experimental music across all genres.  
 
Dineen also displays an equally discerning eye when it comes to the visual. This installation employs still photography and super8 film to chart a personal journey to the present day, referencing music, people, landscape and a sense of place.
Posted: August 27th, 2009 under Uncategorized.
Comments: none