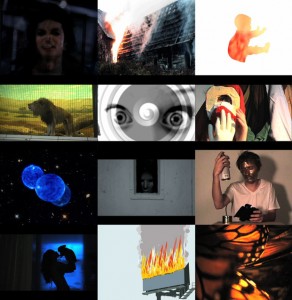 Fugitive Video Project 2009 (USA)
Filmbase, Curved Street, Temple Bar, Dublin 2
FREE      11am -8pm
The second bi-annual Fugitive Video Project presents 65 one-minute videos. Here, the work of internationally-known artists is presented alongside that of young emergent artists. Invited Curating Artists (all of whom contribute video works) include the following: Daniel Canty, Patrick Deguira, Matt Freedman, Joazito, Alan Lambert, Leslie Patterson -Marx, Richard Mitchell, Greg Pond, Stephanie Rothenberg , Elaine Rutishauser, Jack Dingo Ryan, Brent Stewart, Nagla Samir and Stephen Vitiello.
FUGITIVE PROJECTS IS AN ARTIST RUN ADVOCACY, CURATORIAL RESOURCE AND
DATABANK BANK USING MOBILE STRATEGIES TO CONNECT TO AUDIENCES AROUND
THE WORLD.  OUR EPHEMERAL EXHIBITIONS HAVE TOURED SWITZERLAND,
IRELAND, CANADA AND EGYPT AS WELL AS VENUES ACROSS THE U.S. INVOLVING
ARTISTS FROM 5 CONTINENTS.  THE FUGITIVES HAVE SHAPED A NEW COURSE AS
AN INDEPENDENT MOBILE ARTIST ADVOCACY AND A ROAMING CURATORIAL
COLLECTIVE. FUGITIVE PROJECTS IS BASED OUT OF NASHVILLE AND IS
OPERATED BY A DEDICATED GROUP OF ARTISTS LIVING ACROSS THE COUNTRY
THAT SERVE AS THE BOARD OF DIRECTORS.
VIDEOS

'Lion Roars- Lincoln Park Zoo', Melody Owen, Portland Oregon
'On The Notion That The Earth May Not Be Round', Matt Flowers, Richmond  Virginia, Sound By Stephen Vitiello
'Al Farado', Mede – Mede (slithy-meter), Salvador Brasil
'Point of Accumulation', Phillip Andrew Lewis, Chattanooga
'Hail!', Dietmar Krumrey, Fort Bragg California
'Michael Salter and Chris Coleman', Billboard, Eugene and Denver
'Soul In Reverse', Scanner, London
'The Roar', Shaun Slifer, Pittspurgh
'The Sky's Gone Out', Mike Bray, Eugene Oregon
'Brain Drain', S. Vijayaraghavan, New Delhi India
'Rainbow Diary', Nicki Davis, Cincinnati
'Oort Baby', Alan Lambert, Dublin
'Fragment of Time', Kiun Kim, London
'Final Dance', Nagla Samir, Cairo
'Constructed Expanses – Rivers and Fishing', Trenchtown Documentary Services, USA and Jamaica
'To Have To Hold and to Violate: Amber and Doll, Tailgate', Amber Hawk Swanson, Brooklyn
'Eternal Scream', Brent Stewart, Nashville
Laurel Nakadate, New York
'Vision Quest as Seen Through an RV Window', Jessee Sugarman, Eugene Oregon
'The Storm', Benjamin Gueguen, Montreal
'Whirl', Dominic DeJoseph, New York
'Afterbirth', Jessica Westbrook, Chattanooga
'Moving', Jessica Irish, New York
'Paul Was There', Nicoll Haden, San Francisco
'Work Life at DH Jeans', Stephanie Rothenberg, New York
'Dordolho', Fabio Gatti, Salvador Brasil
'Ghost Signals', Anthony Kelly and David Stallings, Dublin
'Study in Light and Form 1′, Esther Johnson, Sheffield/London
'Sick Day', EP Davee, Portland Oregon
'Death Valley Stereoscope', Michael Yaroshevsky, Montreal
'I Like the Minute, I Hate the Minute', Mohamed Abdelkarim, Cairo
'Time Window', Suzanne Hofer Linz, Zurich
'Familiar Animals', Mohamed AbdEl-Karim, Cairo
'RDS: Random Dream Sequence', Jay Roche, Dublin
'Bubentraum (Dream of a Boy)', Max Grüter, Zurich
'Tout à fait gris', Olivier Godin & Renaud Després-Larose, Montreal
'History', Sally Grizzell Larson, Philiapelphia
'Red Alert', Jeroen Nelemans, Chicago
'The Pool', Ira Edwarona, Los Angeles
'Seismanime', Jordan Martins, Chicago
'Converse All-Stars', Bethany Springer, Fayetteville Arkansas
'From One Side to the Other 59 Seconds', Isak Berbic, Sarajevo
'Beginnings', Anna Woch, Montreal
'A Message From Steve', Elizabeth Spear, Austin Texas
'Central Perspective of a Blind Person', Ulli Schuster, Berlin
'Topless Man With Church Bells', Henry Gwiazda, Fargo North Dakota
'One Minute Man', Norberto Rodriguez, Miami
'Trimmings', Jenn Figg, Richmond Virginia
'Cathedral Scan: Chartes', Blake Carrington, Syracuse New York
'Point and Shoot/ Instruction Maunaul #4′, Esther Johnson, Sheffield/ London
'Brown Paper Bag Box', Alice Bradshaw, Halifax UK
'From Whipped Cream to Spaghetti Sauce', Donald Morgan, Eugene Oregon
'Jacob and The Void ( Wrestling)', Kara Hearn, New York
'Untitled (2008)', Maria Pithera, Cyprus
'White Gold', Mike Calway-Fagen, Nashville
'1987 Toyota Van with Every America Album from Every Thrift Store in', Eugene Oregon, Jesse Sugarmann, Eugene Oregon
'A Thanksgiving', Michael Paulus, Portland Oregon
'Ice', Matt Christy, Nashville
'60 Second LIFE', Richard Mitchell, San Francisco
'Tower Studies', Keith Sullivan, Brooklyn
'Day of the Spaniards', Joseph Burwell, New York
'Brut', Cat Tuong Nguyen, Vietnam
'Die Farben', Lee Arnold, New York
'Bang Balloons', Collectif-Fact, Geneva
'Inland', David Clermont-Béïque & Dominic Rioual, Montreal
'Ace of Hearts', Daniel Canty, Montreal
'Polaroid', Patrick Beaulieau, Waterloo, Quebec
Posted: August 26th, 2009 under Uncategorized.
Comments: none