DEAF Opening night
u:mack presents:
Soap & Skin
Plus Special Guest
Alexander Tucker (ATP Recordings)
Button Factory
Thursday Oct 22
Doors 7.30 (Early show)
Tickets €15 From Road, Sound Cellar, Spindizzy, City Discs & online at
www.tickets.ie/umack
www.myspace.com/soapandskin
www.myspace.com/alexanderdtucker
For this year's opening night DEAF have the honour of presenting the debut Irish performance of the wonderful Soap & Skin, aka eighteen year old Anja Plaschg. Having grown up on a pork farm in the small village of Gnas in rural Austria, Anja's spellbinding live performances have been stunning audiences and filling concert halls across Europe.
She performs alone, with a grand piano and electronics, her breathtaking vocal's displaying a depth of talent rarely seen in such a young artist. While many have likened her to both Bjork and Nico, perhaps Cat Power and Antony and the Johnsons are more suitable comparisons, as like theirs, Anja's melancholic compositions are truly the music of the outsider.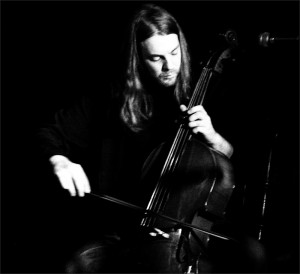 Very special guest on the night is ATP recordings artist Alexander Tucker. One of the Uk's most original and exciting artist of the last decade, Tucker takes the British folk tradition deep into the future, twisting and weaving it with drone metal and electronica. While many musicians currently practice live looping, none do it with the hypnotic beauty of Tucker, whose mandolin, acoustic guitar, fantastic voice and bank of pedals create soundscapes which completely mesmerize.
Soap&Skin – "Lovetune for vacuum"
Few musical discoveries in recent years – perhaps ever – have been as staggering as that of Soap&Skin aka Anja Plaschg. The sheer force this young artist (she is only eighteen) injects into her compositions almost beggars belief, her songs consuming every last drop of her with no regard for grace or beauty. Then again, the 14 deeply melancholic compositions of piano, crackling electronica and inimitable vocals which oscillate between a whisper and a scream, are so drenched in beauty and gracefulness, one could crumble on hearing them. Everything dissolves, no more kitsch, no more pathos, no youthful morbid machinations,  everything, absolutely everything – is drawn into Soap&Skin and everything is filtered out. Anyone who has witnessed Anja Plaschg live, who has experienced her, suffered with her as she casts her feverish gaze across the audience, surrendering herself to them and to her music, gasping for breath one moment and, her head tossed back, howling like a wolf the next, a fragile figure possessed, will recognize the shimmering deathly science that heralds a historic moment. Anja Plaschg has passed the point of no return, yet one would almost like to drag her back from the abyss, the dimensions of her art as immeasurable and unfathomable as an iceberg. At the same time, even if one has heard it all before, the babble of a natural born genius, the compulsive artist, there is no escaping the fact – she does what she does because she has to.
They say I'm different – and they have been saying it about Plaschg since she was a little girl in the small South Steiermark village of Gnas, where her parents had a vast pigfarm. With her punkish looks, ripped clothes and nihilistic attitude to match, she felt like the archetypal outsider, hating piano lessons (her slightly older sister was better than her) until hitting her teens when, all of a sudden, piano playing became her elixir. Anja began practising for 12 hours a day, took up the violin as well and composed her first classical pieces for the village music school. Her older brother installed a sound programme on the computer for her to play around with, and having figured it out for herself, she experimented with productions. Thoroughly uninspired by the educational offerings of the arts grammar school in the nearest city of Graz, she decided to opt out and apply instead to the Academy of  Fine Arts Vienna. Of the two professors keen to take on the 16 year old, she chose the unconventional artist celèbre Daniel Richter, still her tutor today. She uploaded her first songs onto her Myspace page and sent them to various record labels. The only one to respond was Berlin electronic label Shitkatapult, who released a mini compilation featuring her track "Mr. Gaunt PT 1000″ as a surprise outro. The ball started rolling at considerable velocity, with a performance at the Museum for Applied Art (MAK) Vienna in the summer of 2007 seeing the who's who of the Austrian in-crowd scrambling for position in the audience. Their average age was at least twice that of the performer, who was somewhat disconcerted by this sudden groundswell in support. Invitations to the USA followed, where Plaschg was spotted by My Space fans in a record store in Williamsburg, New York. She then got signed to Austrian label Couch who have teamed up with PIAS on the worldwide release of the album. In November 2008 she took to the stage in "Nico – Sphinx aus Eis" at the Berlin Sophiensaele. This theatre play is about the life of the Velvet Underground Chanteuse and Andy Warhol Muse Nico and will also be shown in other European cities. 
Soap&Skin's first album "Lovetune for Vacuum" is a logical progression from her previously released pieces, an unwavering line of drama, inner conflict and melancholy. The impact of this debut lies in its paradoxicality: remarkably mature on the one hand, yet feeding on unbridled youthful exuberance on the other. The songs you find on the album have been written between 2005 – 2008 and have been recorded back at Anja's place –  mostly just by herself. Plaschg does not come across like a teenager of the 00 generation, she rather resembles a tragically rebellious heroine flung into the present like a shivering ghost of the Victorian Brontë sisters, far too worldly-wise for such a young slip of a girl. There may be parallels with songwriters like Cat Power or Scout Niblett who also sing at the piano with self-sacrificial sensibility, nurturing similar awe amongst their fans. Musically, however, the windswept grandeur of  Soap&Skin compositions conjures up echoes of the equally haunted world of Kate Bush. The latter also made her debut at the age of sixteen with  the musical ode to the ultimate Gothic love story "Wuthering Heights", a novel by Emily Brontë, the female lead of the story perfectly imaginable as Anja Plaschg, although her love of techno and computer glitter shows her to be anything other than yesteryear's girl. Soap&Skin has already grown beyond the human form of Anja Plaschg: she is the Girl Monster, come to save us and to devour us.
Posted: August 26th, 2009 under Uncategorized.
Comments: none