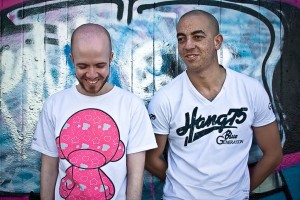 Mr Jones Record Label showcase with the Schizofonics
 The Twisted Pepper, 54 Middle Abbey St, D1
€5 with Membership and €8 General Admission /  11-3am
Artist Biog:
DJing together for over 10 years, the Schizofonic's put their heads together in 2008 and began to make some tunes. It was the success of their first remix, Mustard Pimp's 'Zombie's Revenge' that inspired them to keep the remixes coming and also to try their hand at some original production.  (Schizofonics' Remix of 'Zombie's Revenge' was featured on the official release)
Their production style is as diverse as their DJ sets, taking inspiration from Electropop to Global Bass and everything in between. This eclectic sound is most evident on 'Break Free' their first original production. Half chord based vocal track and half murky bassline banger it's a tune that's as at home in the club as it is on your iPod. 'Break Free' has recieved love and plays from the likes of Detboi and Stereoheroes among others and is to be featured on underground New York blog Powerstrip Circus' next mixtape also featured on 'Floor Bangers' compilation album along with names like Santigold, N.A.S.A., La Roux and Thunderheist.
In June this year, the lads remixed Queen's rock classic 'Bohemian Rhapsody'. This proved to be their most successful track yet topping the Hype Machine chart twice in one week!
It's the aim of Schizofonics to back up their productions with DJ performances that are a cut above the rest. Taking the club experience one step further, the boys are blurring the boundaries of DJing and VJing with their visual sets. Armed with a laptop and a hell of a lot of MP4s the show is as banging as their respective solo DJ sets but with a video for each track projected around the club simultaneously and mixed in visual and aural sync.
Posted: September 21st, 2009 under Uncategorized.
Comments: none