DEAF TALKS present a FREE full day and evening of film, workshops, discussions and music featuring: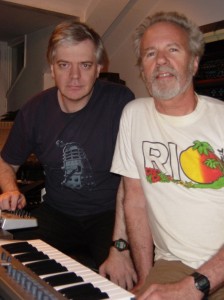 Dave Vorhaus & Mark Jenkins (White Noise/BBC Radiophonic Workshop)
.
.
.
..
..
.
.
.
* Irish premiere of Totally Wired, a documentary of synthesiser store owner Andreas Schneider, ensconced inside a crumbling socialist office block in former East Berlin, preaching the way of analogue to a loyal following of infamous electronic musicians.about Schneider's Bureau in Berlin. The film will be followed by Q+A from Andreas Schneider and director (Dublin born, Berlin based) Niamh Ahern.
* BBC Radiophonic Workshop presented by Dave Vorhaus and Mark Jenkins. (White Noise, UK).
The BBC Radiophonic Worhshop was one of the sound effects units of the BBC, was created in 1958 to produce effects and new music for radio, and was closed in March 1998, although much of its traditional work had already been outsourced by 1995. It was based in the BBC's Maida Vale Studios in Delaware Road, London, growing outwards from the then-legendary Room 13.
* Workshop from FAW (Future Audio Workshop, Irl) with special guest Peter Kirn (Create Digital Music, USA)
Based in Galway, Ireland. Formed in 2007, FAW's main aim is to create and develop exciting new audio software for the international community of musicians, sound designers and live performance artists. Gavin Burke from Future Audio Workshop and Peter Kirn will hold an informal workshop on making music with your computer, giving advice on how to get setup and how to develop your own custom made audio tools.
Saturday 25th Oct: 12pm to 6pm (schedule tbc) / Auditorium at the Digital Hub, Thomas St, D8
Free Admission: to guarantee entry contact please karen@deafireland.com to hold your place.
Posted: September 25th, 2008 under Uncategorized.
Comments: none