DEAF @ Sebastian Guinness Gallery
Sebastian Guinness Gallery,18 Eustace street, Dublin 2
Sebastian Guinness Gallery
Open in Temple Bar since January 2008, Sebastian Guinness Gallery is dedicated to bringing international art and artists to Ireland.
Mon - Fri 10—6pm / Sat - Sun 12—6pm
James Nares
James Nares, Paper Factory, 2007. 7:45min
James Nares, Drip, 2007. 2:00min
James Nares, Drop, 2007. 8:20min
James Nares' work as a painter is so strong and affecting that it would be possible and perhaps even appropriate to discuss it without reference to the current climate in the arts. Nares is a particularly independent artist, and his work has little relation to that of his contemporaries, and his milieu does not appear to be a source of inspiration, a stylistic influence or even a footnote to his work. He comes out of left field, making work that is totally independent.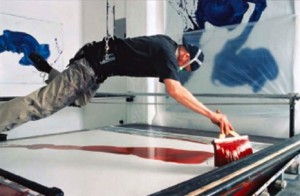 Nares is not a just a painter. In his 1977 - 78 Solos performance 'Desirium Probe', Nares became a television transmitter. The piece was performed twice, in downtown New York: once at Joan Jonas's Mercer Street loft, in 1977, and once at the Kitchen, on Wooster Street, in early 1978. Nares stood in a white room facing a television screen, with the audience seated behind it. In his hand was a remote control. For about 4 hours, he switched from station to station, channeling the words and sounds he heard through the headphones. A physical and mental test of concentration and endurance, a sci-fi twist on 'sampling' that predated the rise of the artist-DJ/VJ. 'Desirium Probe' was for many of the roughly two hundred people who saw it, one of the most memorable performances of the decade.
As a film-maker Nares is going public with his 'motion pictures' at a moment when installations are hot and it seems as if every second gallery has a video running in a back room. His approach, however, to the relationships among various mediums of expression could not be further from the contemporary tendency toward multi-media mash-ups and circuslike spectacle. Indeed, 'purity' is the term most typically invoked in discussion of his painting. What Nares has done for more than thirty years is repeatedly run a few potent, related ideas - about movement and stillness, ritual and improvisation, interior and exterior - through multiple media to define the particularities of each.
Fugitive Projects
This collection of one-minute videos is a cooperative initiative by Fugitive Projects. Established in 1999, Fugitive Projects currently is a non-profit curatorial organisation, with the stated intention "to foster innovation in the shadows because often it is far outside the usual venues where opportunities for real invention occurs". Operating out of Nashville, Tennessee (far from the major cultural centres for the visual arts), the Fugitives have recently begun a new course as an independent arts advocacy group and a roaming curatorial collective that produces travelling exhibitions.
The 60 Second project offers a diverse collection of videos with themes and production techniques demonstrating a wide range of approaches to the moving image, including self-authored, generative software. Participants hail from diverse artistic backgrounds, including documentary and feature filmmaking, painting, computer programming, performance art, sculpture, and installation. This is a unique opportunity to see a large and diverse collection of video and film works by artists whose collective résumé include collaborations with Tom Waits and the Vienna Philharmonic, participation in such major exhibitions as the Whitney Biennial, Berlin Biennial, and the Sundance Film Festival, and whose works can be found in the collections of MOMA in New York, the Whitney Museum of American Art and in many other institutions in the US and Europe.
Solus Programme
The 60 Second project, along with the Jonas Mekas films screening in the Denzille Cinema for DEAF, are part of the overall experimental film programme sourced by the Solus Independent Film-maker's Collective. Formed in 1988 in Dublin, Solus is a platform for film-makers working in Super-8mm, 16mm and DV. Solus screenings feature work from Moira Tierney, David Stalling, Anthony Kelly, Zoe Greenberg, Dennis Kenny, Alan Lambert, Donal O'Ceilleachair, Stom Sogo, and Masha Godovannaya.
Fugitive Projects One Minute Films:
All the Latest Synthetic Music by Billy Davis – Berlin
Reflection 2.0 by Scott Reeder – Wisconsin
A Standard Hurricane by Joseph Burwell – New York
Boy with Ball by Victor Barbieri, Corte Madera – California
Process 14 by Casey Reas – Los Angeles
Sonntagmorgen by Huber: Huber – Zurich
Ghost Ray by Dominic DeJoseph – New York
Deam Bond by Natalia Benedetti – Miami
Hairbit by Jenna Gribbon, Emily James,
Paul Simpson – New York
Steiner Stem by Andrew Deutsch – Alfred, New York
Square Millimeter of Opportunity: Geese by Luke Lamborn – New York
Four Walls by Jessica Irish – New York
Homeland Security by Bryan Hunter – Nashville
Selected Drawings Version 1 by Adria Marqez – New York
All by Myself by Hernan Bas – Miami
Matching by Sabine Hagmann – Zurich
E. P. Davee by Tunnel – Portland, Oregan
Certainly Red by Lauren Kalman – Nashville
Dark Cloud by Gretchen Hogue – Portland, Oregan
Le Jeune Chevalby Salt – Miami
Shaking Star by Magda Tothova – Vienna
Just Happy To See You by David Politzer – New York
Pink Whale by Miles Inada – Los Angeles
Music To & For by Donald Morgan – Los Angeles
Ski Mask by Danny Minnick – Las Vegas
Post-mortem Vignette N0.2 for Mama B by Erin Hewgley – Ohio
Vermeintlichkeit und Zufall by Muda Mathis & Sus Zwick – Zurich
Prospecting by Brooke White – Mississippi
A Special Refrigerator by Courtney Stephens – New York
An Incident of Love by Ma Quisha – China
Describing a Sphere by Melody Owen – New York
Man vs. Nature 1 by Elizabeth Spear – Austin, Texas
Mman vs. Nature 2 by Elizabeth Spear – Austin, Texas
Man vs. Nature 3 by Elizabeth Spear – Austin, Texas
Bum Rush by Luis Gispert – Miami
+ / - 2oz. by Norbert Rodriguez – Miami
Hotel Intercontinental by Nicholas Lobo – Miami
Dental ( Infiltration no.7 ) by David Hellams – Nashville
Too Soon To Tell by Haus Am Gern (Barbara Meyer, Cesta & Rudolf Steiner)
You Should be the Next Astronaut by Charles De Meaux – Paris
Paradise Road by Karina Nimmerfall – Berlin
Old Smuggler by Jeff Luckey – New York
Spiral Sparky by Matt Freedman – New York
Nut Harvest by Paul Richards – London
Second Language by Mahlea Jones – Nashville
Rain by Matt Underwood – Alfred, New York
I Fell For You by Jack Dingo Ryan – Nashville
The Black-throated Warbler by Tom Thayer – Murfreesboro, Tennessee
Even to the Senses… by Krista Connerly – Snowmass Village, Colorado
I'm Masturbating Right Now ( excerpt ) by Will Clen Dening – Nashville
Feign by Terry Glispin – Nashville
Architects and Emergencies by Greg Pond – Sewanee, Tennessee
Canticle One by Kate Sherer And Jake Borndal – New York
Rooftop by E. P. Davee – Portland, Oregan
Serial World by Richard Mitchell – San Francisco
Password by Kristin Lucas – San Francisco
Qzar by Trevor Shimizu – New York
Excesso e. fome by Joaozito – Salvador, Brazil
Barley Legal by Jason Driskell – Nashville
Face Shifting by Zorica Colic – Serbia
Improvisation for a Pencil and a Rubberband by Sean Talley – San Francisco
Lenscrafters by David Hellams – Nashville
Bird Beak by Caleb Gentry – Los Angeles
Untitled by Charles Irvin – Los Angeles
Music:
Metalux by E*Rock – Portland, Oregan
2002 — 2007 by Dude Dogg – Los Angeles
Mystery Park no.7 Epreuve d'Artiste by Haus Am Gern – Zurich
Digital Dust by Gold Hick – Seattle
Everybody's Happy bynSwetlana Heger – Berlin
Berlin by Johhny Riflemaker – Seattle
Waiting Room by Kevin McCoy – Ohio
Nothing Lasts Longer than Half a Second by M. F. Tichy – Jersey City, New Jersey
Les Chiropteres by Alex Lankin – Iowa
After Emak Bakia by Dominic DeJoseph – New York
Untitled by Ana Medrano – Costa Rica
4 Short Films by Robert Zverina – Seattle
Untitled ( swamp ) by Patrick Power – Virginia
Feedback no.2 by Bhakti Baxter – Miami
Behold by Kamau Patton – Oakland, California